Nordijski center Planica - Biro Stvar
01
Warm-up Buildings
The location of the two Warm-up buildings is next to the inruns of the Bloudek Giant (HS104/139) and the Gorišek Brothers Flying Hill (HS225). The buildings are reclined and partially pressed into the natural hillside and positioned between the cable car and inruns and separated from them for unobstructed further development of ski jumping devices.

The buildings are designed as smaller and larger "living rooms", primarily intended for the preparation of ski jumpers during competitions and training and at the same time present a part of the tourist infrastructure and complementary activities of the Nordic Centre Planica (circular path around the ski jumps, sledding trail and zip-line).
02
Warm-up Building HS104/139
The building is situated on the hillside covered with trees between the intermediate ski-lift station "Čaplja" and the inrun of the Bloudek Giant (HS139). A path leads from the building over the slope to the forest trail, which is in winter times used as a sledding trail.

The building with its position and functional / programme design can become an intermediate ski-lift stop, a service area for competitors during training, a heating area for ski jumpers during competition or as part of the overall tourist offer during sledding season.

Deriving from different application scenarios the building was designed as a multi-purpose duplex gallery space, which opens both to the slope and to the valley. The extension of the interior space is the overhanging terrace, which allows unobstructed views of the sports infrastructure to the valley and the natural mountain backdrop with the Cipernik mountain.

The image of the building comes from the tendency to blend architecture with the natural environment and design connection with other sports facilities around the ski jumps. The façade membrane reacts to the interior content and is in the area of service programmes closed with a wooden sheath and glazed in the area of the common multi-purpose areas.

The single pitch roof, which derives from the slope of the terrain and the inclines of the inruns, is placed on the wooden structure of the building.
Plans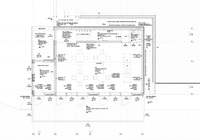 Ground floor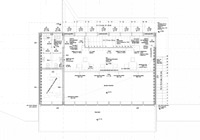 First floor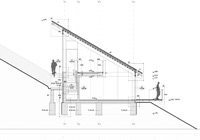 Profile C-C and D-D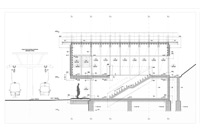 Profile B-B
Ground floor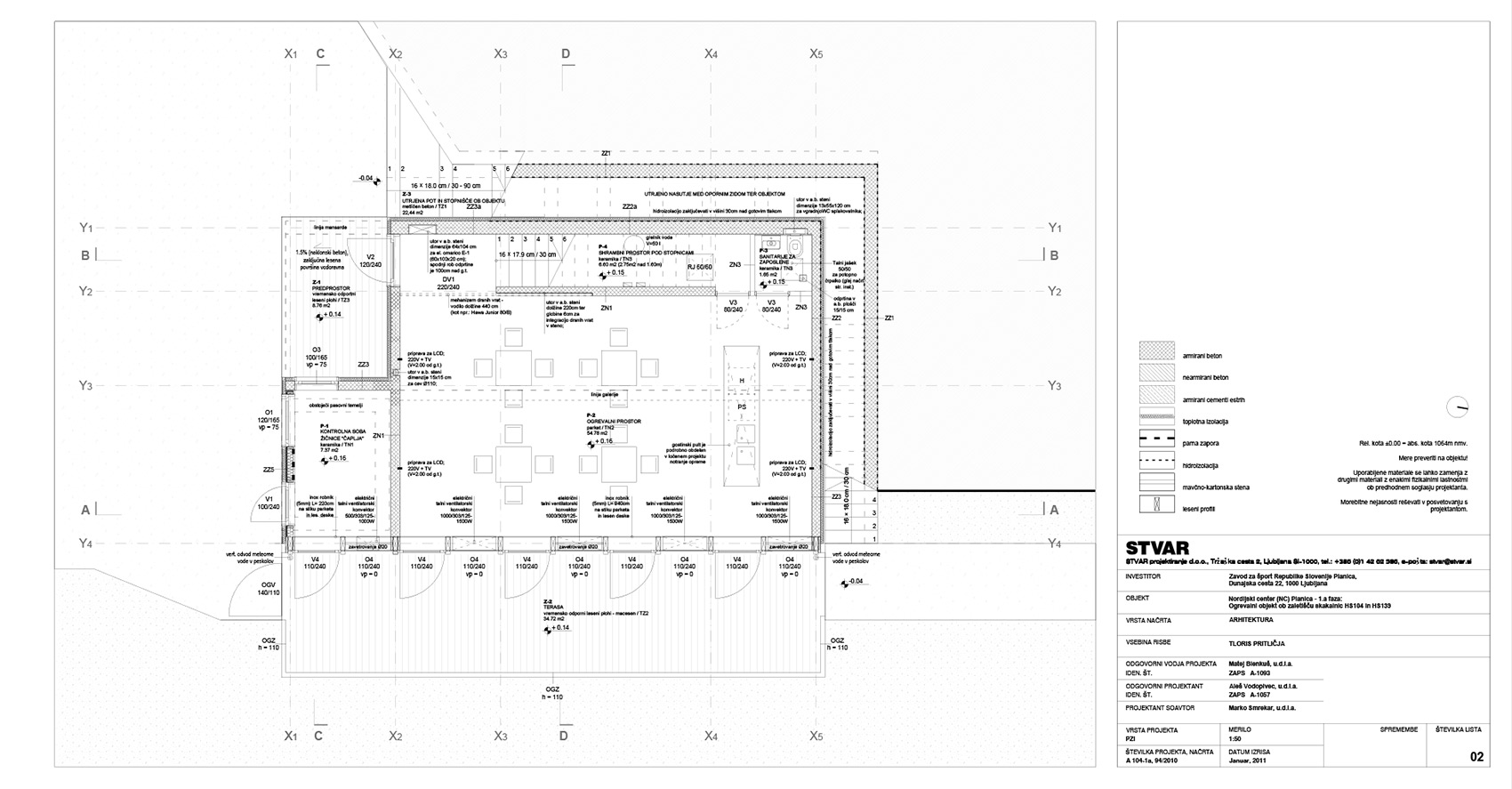 First floor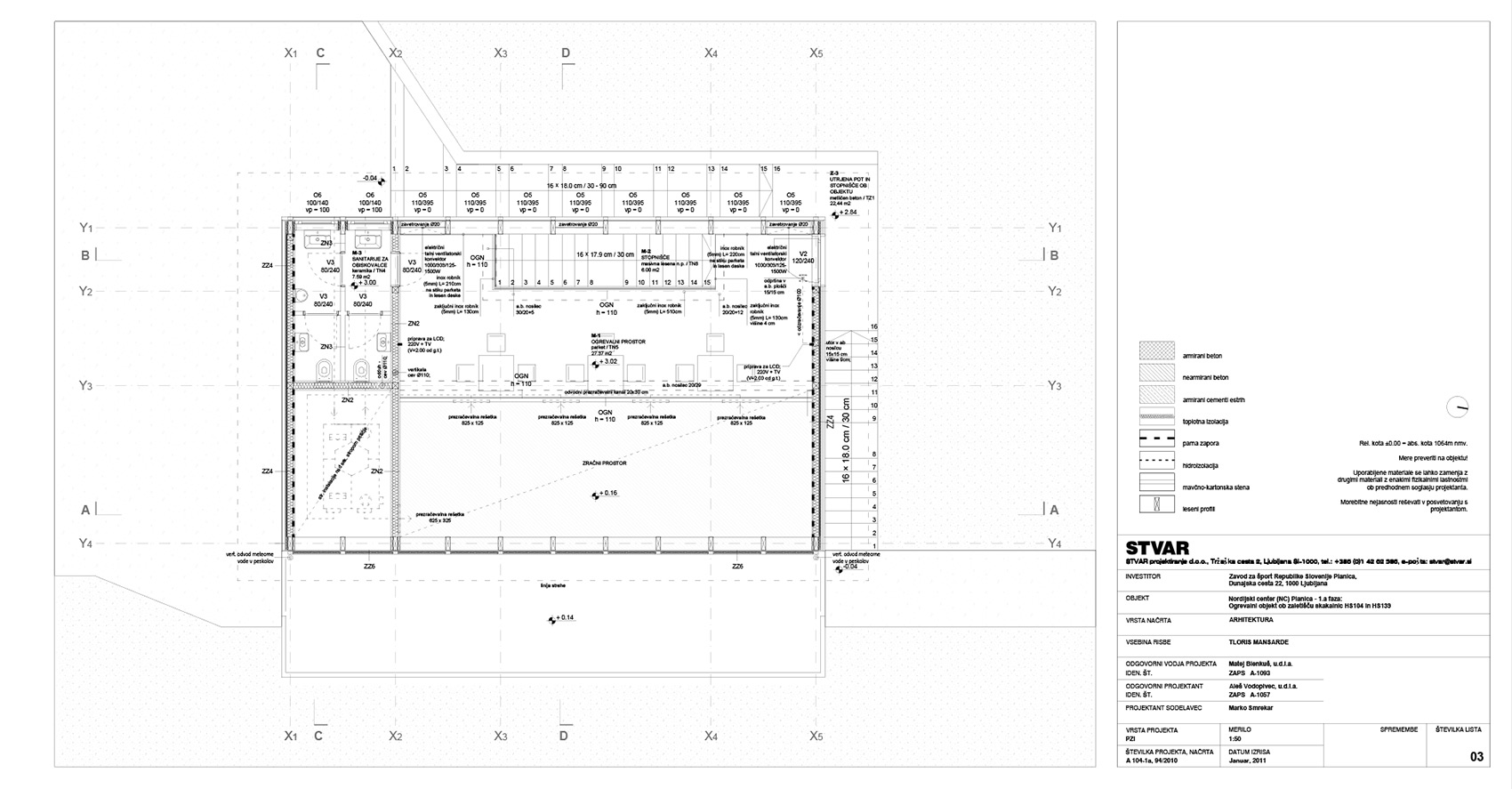 Profile C-C and D-D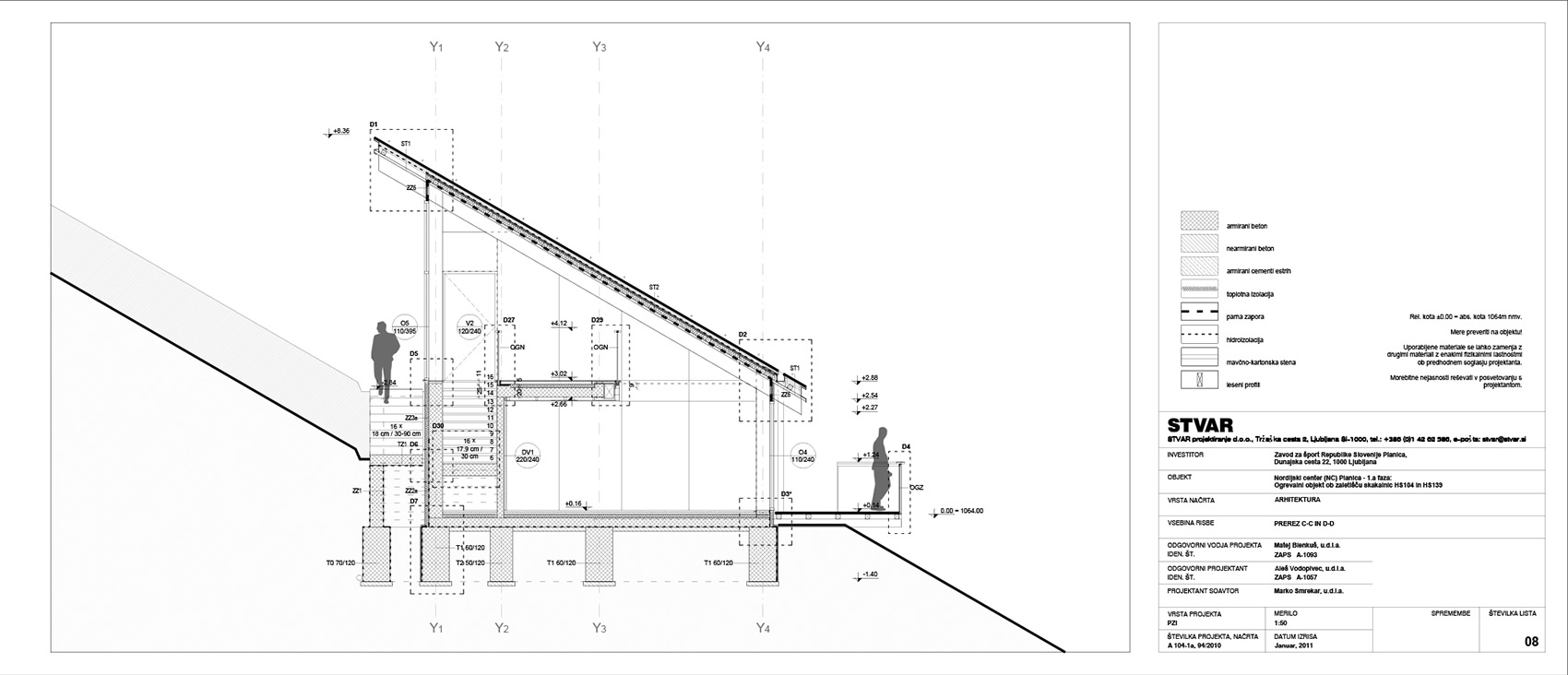 Profile B-B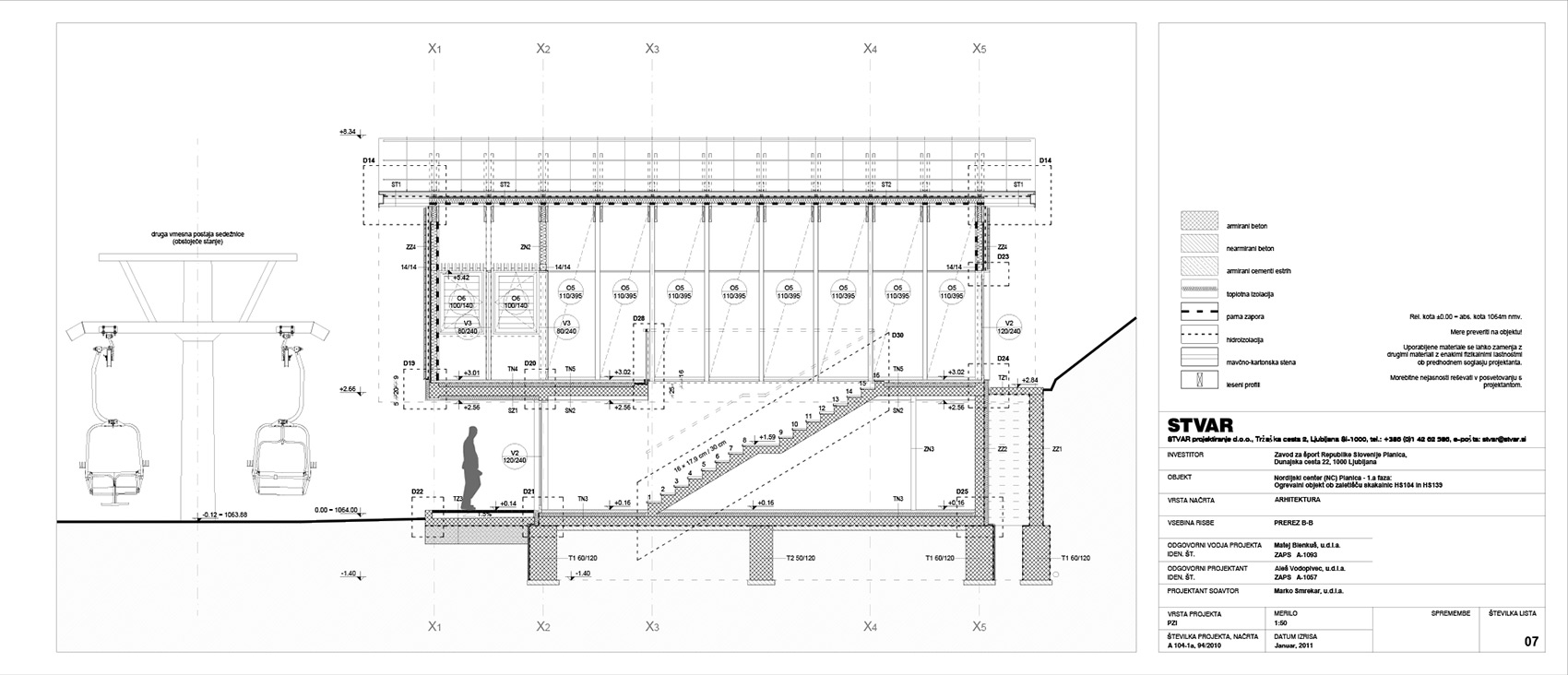 03
Warm-up Building HS225
The building is placed between the upper station of the ski-lift "Čaplja" and the inrun of the Gorišek Brothers Flying Hill. The geometry of the building results from adjusting the ski jump's axis and the configuration of the terrain.

Due to more difficult construction conditions in the slope is the construction designed as a combination of concrete and wood. Prefabricated wooden ridges, which bear the single pitch roof, were assembled in the concrete supporting plateau and the retaining wall.

The main entrance to the building is located in the crease of the building geometry. The central uneven gallery space is multi-purpose in terms of use and provides a variety of sporting, business and tourist scenarios.

The façade expression of the building is reserved and subordinate to the penetration of the surrounding nature through the building and this is why it is completely transparent towards the slope and the valley. The inner core is protected by a single pitch roof, which in its direction and inclination flirts with the gradient of the terrain and the sports infrastructure.

In design and experience another unique element is the overhanging connecting link between the heating building and the inrun of the Gorišek Brothers Flying Hill, where the visitor can experience the dimension of one of the largest ski jumping devices in the world.
Plans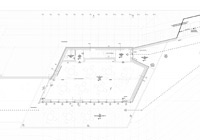 Ground floor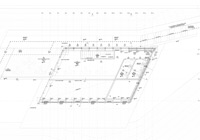 First floor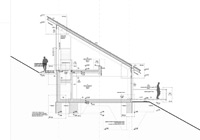 Profile A-A
Ground floor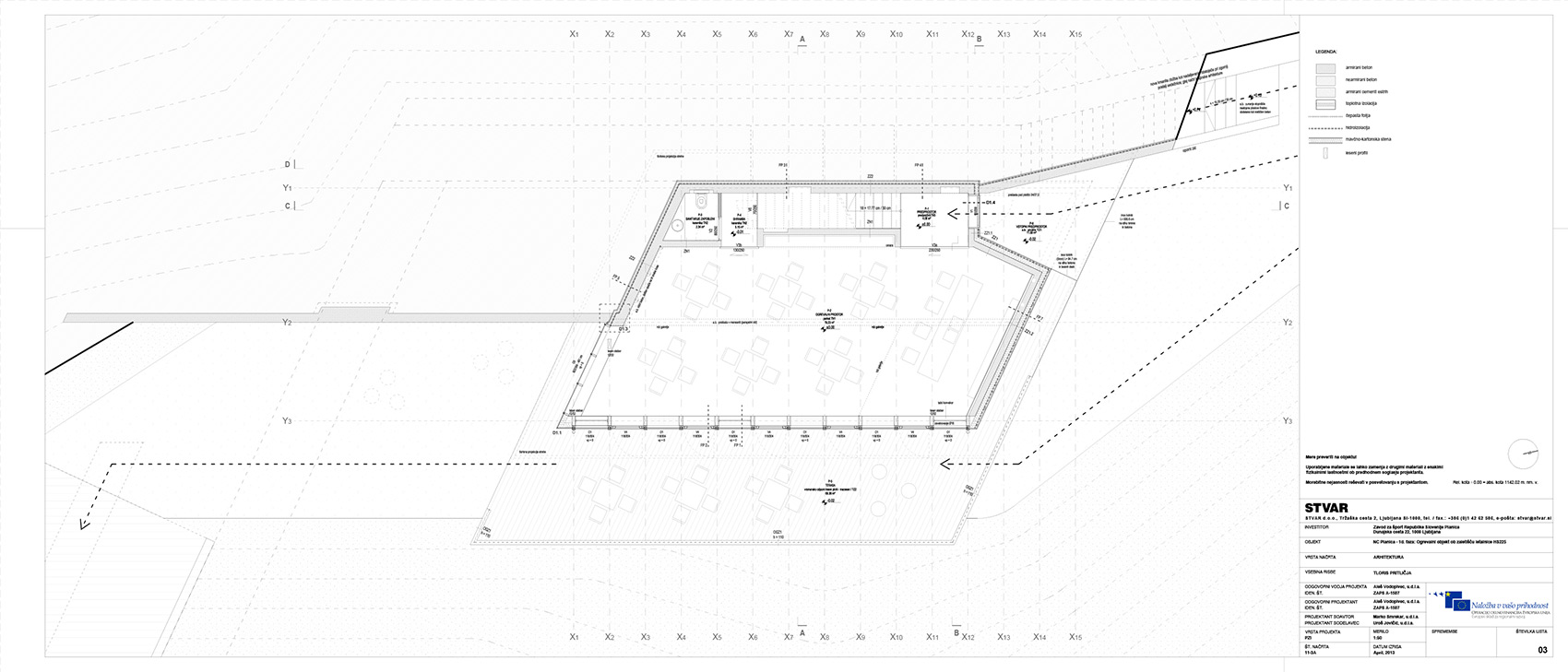 First floor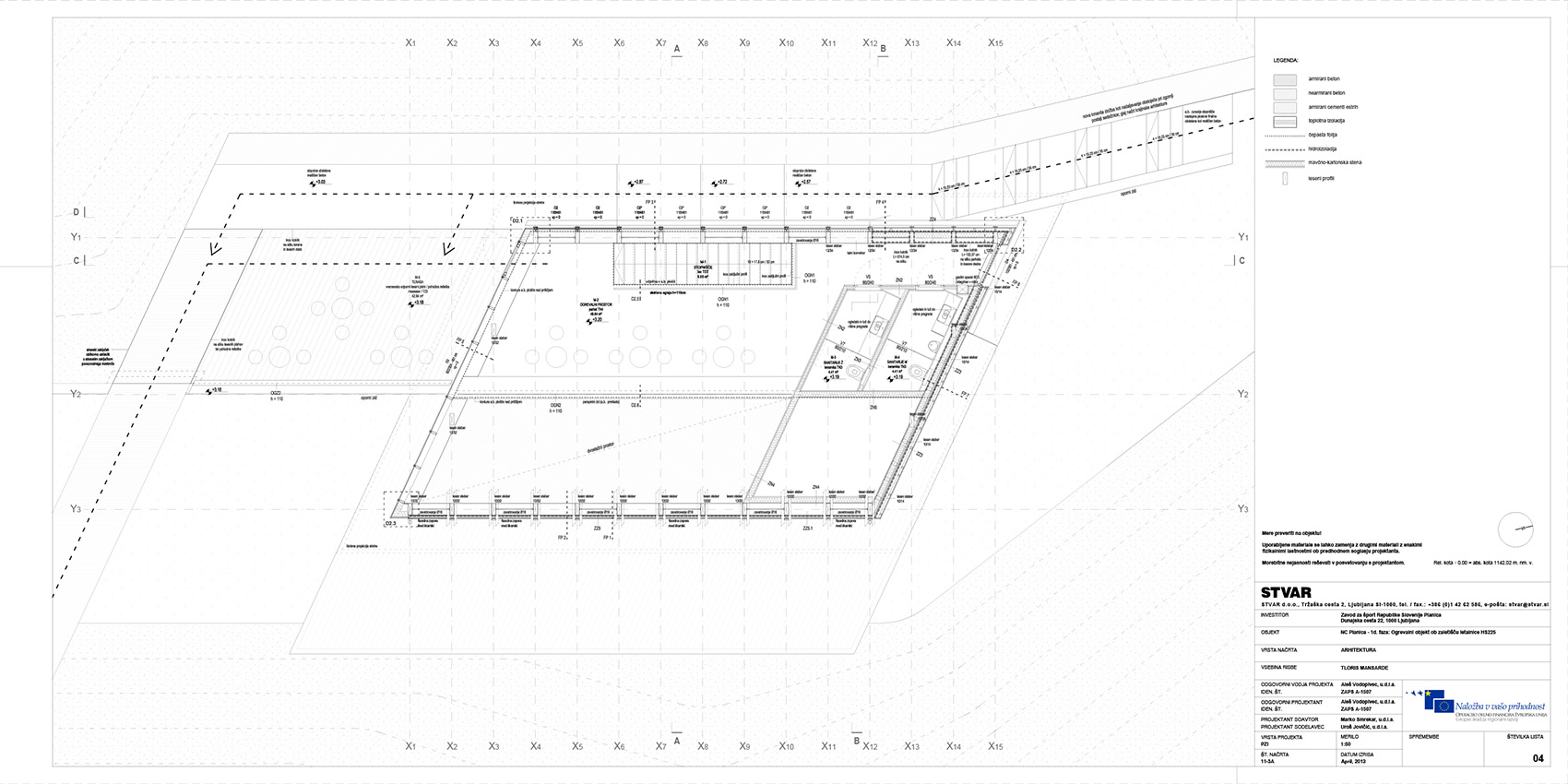 Profile A-A